You are here:
My Curl Girls
My Curly Girls is an all natural plant based organic hair care line. It's made with natural ingredients that add life, luster and lots of moisture to hair. My Curly Girls products will hydrate the dullest hair leaving it rejuvenated and shiny. Try it today and find your new "Holy Grail". 

Our products are FREE of Alcohol, Parabens, Sulfates, Coconut Oil, Nut Butters, Nut Oils, Soy, Phthalates, Mineral Oil, Formaldehyde, Petroleum.

SAFE for Babies and my lovlies with sensitive skin.
Price List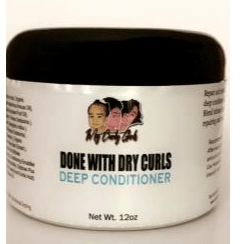 My Curly Girls Done With Dry Curls Deep Condition
Hydrate Hair with our super moisturizing Deep Conditioner.
USD 12.00
Elmont New York United States