Appolon Dental Group
Claimed
200 West 57th Street Suite 1402, New York 10019, New York, United States
IN LIGHT OF COVID-19 WE ARE NOW OFFERING VIRTUAL CONSULTS. PLEASE VISIT https://calendly.com/drappolon/virtual-dental-consult?month=2020-04 TO BOOK YOUR VIRTUAL APPOINTMENT TODAY!

Are you looking for a friendly, welcoming dentist that you can trust? Dr. Appolon is a kind and caring dentist who will put you at ease. You can trust her training and experience in providing optimal care. You can trust her technology represents the best developments in dentistry. Most of all, you can trust her openness and honesty.

Dr. Appolon is a dentist who believes that good oral health is the foundation for overall health and happiness.
A visit to Dr. Appolon gives you confidence that your smile will look, feel, and smell healthy.
4.0 average based on 4 Reviews
---
I am usually not a fan of going the dentist, but I will say I actually was looking forward to my next appointment when I went here. -The office is bright and inviting. Often some offices look very dim and drab. - The staff was always welcoming. - Dr. Appolon was very nice, through, knowledgeable, and understanding of my apprehension related to dental procedures. - When it was time for my procedure to be done, I felt like my comfort was a top priority to Dr. Appolon. She continued to make sure that I was comfortable throughout the procedure. To me that is important because being comfortable in the beginning of a procedure doesn't always guarantee that it will stay that way throughout the procedure. - I feel that Dr. Appolon fully understands that many people who are fearful of going to the dentist and she has done a great job providing patients with cutting edge methods and technology to help them relax. - I think that she is a great dentist and I would definitely recommend this practice to others. I'm often recommending them to the people around me.

I love visiting Appolon Dental! I had quite a bit of work to get done on my teeth and every visit has been seamless. Dr. Appolon has a great bedside manner and makes me feel really comfortable. Her staff is also very warm and welcoming. It's been a pleasure coming here!

I've had the unfortunate pleasure of needing a lot of dental work. After moving to NYC I was in need of a new dentist and I specifically sought out a black organization as a part of my black healthcare network. I found Dr. Appolon and couldn't be happier with her care. Her all-women led office is staffed with professionals who provide above and beyond service and hospitality. I'm used to the pain that comes with dental procedures and they made it undeniably the best experience with minimal discomfort to date. I would highly recommend Dr. Appolon and her team. I'm truly spoiled now because of them.

Review response

Thank you Jeremy! We are the ones to have the absolute pleasure of getting to meet patients like you. It's not being spoiled when the best treatment is what you deserve!

Dr. Appolon and her staff are truly amazing in EVERY sense of the word. I walked in seeking a dental cleaning and overall dental checkup. From the moment I walked in I was welcomed in and made to feel at home by warm receptionist's and overall aesthetically pleasing atmosphere. While talking with Dr. Appolon she made me feel comfortable; while also exploring options that I would need to have the correct dental work done in order to get to my overall journey of health and rejuvenation. The staff plays music of your taste and liking and keep everything very light and easy to the point you don't even realize you're in a dentist office. Also; being a person of color helped me feel more at ease because I felt as though I could relate to her more one on one and she takes that very seriously as my last dentist didn't have that type of connection. If you truly want to have a great time while also exploring benefits of great dental care I strongly recommend seeking the advice and care of Dr. Appolon. I will truly be a patient for life; I truly appreciate her and her team of great women!

Review response

Thank you for those kind words, Nate! Here at the office, our patient's comfort and happiness are our number one priority. It is warming to hear you had such a great visit. Everyone here at the office is truly ecstatic to hear about your amazing experience and we strive to always keep you happy.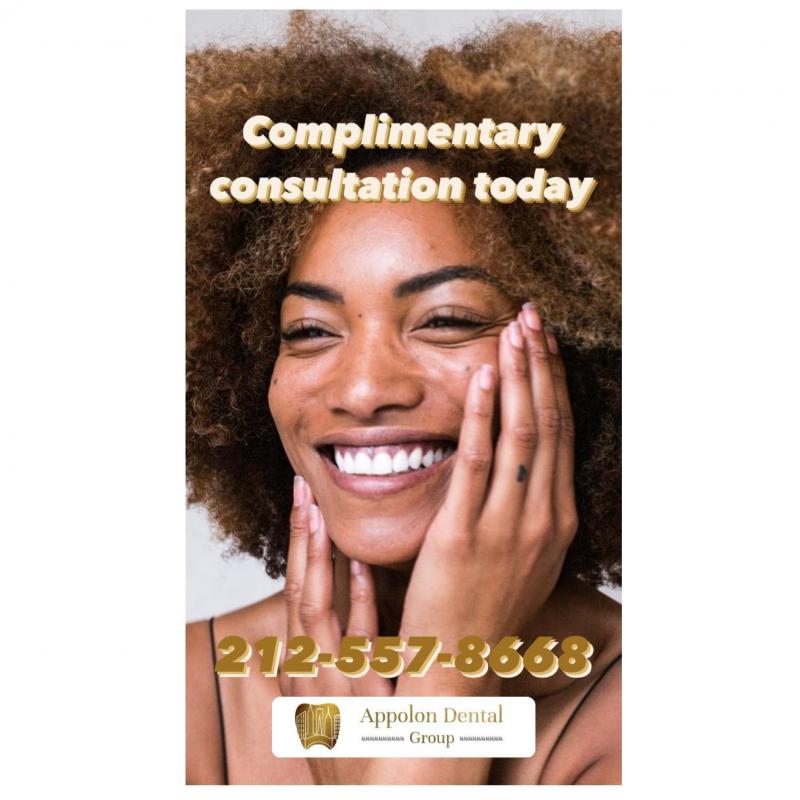 Contact info
200 West 57th Street Suite 1402, New York 10019, New York, United States