B-Tech Printing & Graphics
B-Tech Printing & Graphics
Claimed
101 Marietta Street, Atlanta 30303, Georgia, United States
We are recognized as a full service provider, driven by commitment of excellence. As a veteran and minority owned company, we understand the importance of supporting and hiring those who served and continue to serve our country. We offer a variety of services, such as, printed products, promotional items, graphic design, selling and renting office equipment, Copiers, Printers, Fax Machines, Scanners and Software. We also provide a professional print shop experience as well as design and branding services.
BUSINESS REVIEWS
4.0 average based on 3 Reviews
---
Really is a One Stop Shop!

I love this company because they do so many different kinds of printing that I usually don't have to go somewhere else. I know another review says they only have a few printers; the workers there explained that the main office is just a print and copy office to serve the building they are in, but there is a warehouse where their large format and more complex printing is done. I would definitely recommend it! The owner is Jamaican-American and an Army veteran!

Smart, fast, and amazing!

Smart, fast, and amazing! After a horrible 2.5 hours at West End Print Shop trying to *walk them* through the process of printing a headshot (unsuccessful ... but they DID try to charge me for all their mistake prints), I called here expecting more disappointment. But the guy seemed knowledgable on the phone and the prices were better than basically anywhere else, so I risked it. I am SOOO glad I ended up here. It's nice to go to a print shop and feel confident that they know what you need even better than you do. Rare to find ppl who actually focus their intelligence on the task at hand! Even better when they're personable and actually care to help you find a solution to your needs. This literally made my day. ps—It's a small space, so might be best to call/email ahead. Location: large multi-use building (101), on street level toward the back right (if you're coming from Marietta St.)

Walked in and only saw 2 regular office printers and one large printer that is out of order. Prices are so high because a majority of business is outsourced to another print shop. Would not recommend.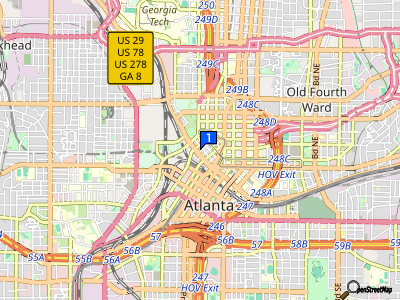 101 Marietta Street, Atlanta 30303, Georgia, United States