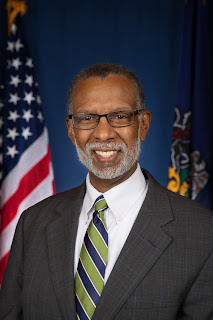 Special Announcement Allentown Branch of the NAACP Annual "Tribute to Dr. King"
Super User
Blog
Hits: 512
Lehigh Valley Black News Network: Special Announcement
Allentown Branch of the NAACP Annual "Tribute to Dr. King" Monday, January 16th at 11:00AM hosted at the historic St. James A.M.E. Zion Church in Allentown PA
Allentown PA.- January 9th 2023 — The Allentown Branch of the NAACP will hold its Annual "Tribute to Dr. King" celebration on Monday, January 16th at 11:00AM hosted at the historic St. James A.M.E. Zion Church located at 410 Union Street in Allentown, PA where the Reverend Thomas E. Sweatt is the Pastor. This annual event celebrates the legacy of Dr. Martin Luther King. The public is invited to attend. This year's theme is "This Is Power". This theme is reflective of the National NAACP's theme for 2023.
This year's Keynote Speaker is PA State Senator Art Haywood who represents the state of Pennsylvania's 4th Senatorial District. Senator Haywood was initially elected to the PA Senate in 2014 after serving as the President of the Board of Commissioners in Cheltenham. His PA Senatorial District has offices in Abington and Philadelphia.
Through his leadership as a State Senator, he has worked to reduce homelessness through expansion of the Pennsylvania Housing Affordability and Rehabilitation Enhancement Act, passed requirements to test for lead in Pennsylvania schools, and successfully championed legislation to relocate domestic violence survivors living in public housing.
The ARC of Pennsylvania recognized Senator Haywood in 2021 as their "Legislator of the Year" for exceptional leadership in addressing the needs of Pennsylvanians with intellectual and developmental disabilities. Senator Haywood graduated Magna Cum Laude from Morehouse College with his bachelor's degree; attended the London School of Economics as a Marshall Scholar to complete his master's degree. He then graduated from the University of Michigan Law School in 1985.
Youth from the Allentown School District's William Allen High School Black Student Union will also be participating in the program.
The NAACP was founded in 1909 and is the oldest civil rights organization in the world.
Press Inquiries only:
Contact Mr. Dan Bosket, Allentown NAACP Vice-President at 610-780-9903 for more information.